Each month, Encore! introduces a different guest musician. They are all busy performers and teachers and we are delighted to be working in collaboration with them.
Felicity Meakins – harp
Felicity Meakins graduated from the Royal College of Music in 2011 where she studied with the World renowned harpist Ieuan Jones.  Prior to this Felicity studied the harp, flute and piano at the prestigious Chetham's School of Music.
Felicity has held residencies at The Landmark Hotel, The Connaught and Coworth Park.
Memorable performances over recent years include performances of Mozart's Flute and Harp Concerto, accompanying Florence and the Machine and Dizzy Rascal at the Brit Awards, featuring as a harpist on the film Brighton Rock, and playing with 60 harpists at the Royal Opera House for King Charles's 60th Birthday.  She is in great demand and performs for weddings and events all over the country, most recently at Kensington Palace, The Ritz, the House of Lords and the Tower of London.
Felicity is a keen educator, she currently teaches at St Albans High School for Girls, North London Collegiate School, Beechwood Park Preparatory School and St Albans School alongside private teaching at her home in St Neots.
Since welcoming  her son in October 2022 she has attended as many Encore concerts as possible and Joshua will be an audience member for many years to come!
Judit Kelemen – viola
Judit started to play violin when she was 6, only much later she was
advised to switch to viola. The warm, melancholic sound of the viola appealed to
her immediately. She finished her studies at "Liszt Ferenc Music Academy" in Budapest and soon became a member of the Budapest Festival Orchestra.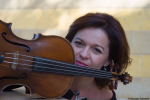 Seeking a bit of adventure she applied for a job in the newly forming orchestra in
Malaysia and was the viola section co-principal of the Malaysian Philharmonic
Orchestra from 1998 till 2008. Working with world famous conductors and soloists
Judit feels she gained most of her orchestral experience during these years.
Since her studying years she never stopped playing in chamber music groups,
mostly quartets and she had plenty of performance opportunities in Malaysia as
well as in Doha were she moved in 2008 to become a member of the Qatar
Philharmonic Orchestra . Life in Doha with her two children has offered plenty of
enjoyable new and exotic experiences.
Embarking on the biggest adventure of her life Judit and her family has moved to
England in January 2017 and started her exciting new job with the BBC Concert
Orchestra. Beside playing in the orchestra Judit enjoys teaching and continues to
play regularly in chamber music groups.
Stephen Meakins – piano
Stephen Meakins is one of the UK's busiest young pianists. A keen collaborator, he is in great demand as a chamber musician and has performed in major concert venues as both soloist and accompanist.
Born in Northampton, his formative musical education began as Organ Scholar at All Saints' Church, Northampton, where he continues a working relationship with its musicians to this day. Subsequently, Stephen held the Scholarship at St Paul's Cathedral, Melbourne, Australia. 

 Stephen then went on to study at the Royal College of Music with Niel Immelman and Kathron Sturrock. Whilst at the RCM he was awarded the accompanist prize in the Kathleen Ferrier Competition for Young Singers and was also a prize winner in the prestigious Schumann Competition. In his final year there, Stephen was invited to represent the college at Wigmore Hall and upon graduation joined the Junior Department as an accompanist and teacher.
Stephen accompanies for the New Virtuosi Mastercourse, Bute House School for Girls, Royal College of Music Junior Department, Northampton Bach Choir and Dorking Choral Society. Stephen also regularly works with the Hallé Youth Choir and the London Symphony Chorus.
Catherine Wilmers – cello
Catherine's CD of lovely but neglected works by women composers from the last hundred years was released worldwide by ASV and it received the rare gold award from the French recordings magazine 'Diapason'. She has performed works from the CD live on 'In tune' for BBC Radio 3 and was awarded a London Wigmore Hall debut recital in 1979.  
For ten years she was sub-principal cellist in the London Philharmonic Orchestra. The University of Humboldt, California, USA interviewed her for a radio series on 'Women in Music' where she spoke about her experiences as the only female cellist in the LPO cello section in the 1970s. She was invited to play in the Royal Albert Hall Prom in the World Orchestra for Peace.
Nicola New – Horns and Trumpets
Since graduating from the Royal College of Music, Nicky has combined her solo, chamber and orchestral work with teaching and accompaniment. 

She has taught all ages and abilities within specialist music centres, schools, barracks and community settings as an instrumental tutor, ensemble leader and music co-ordinator. Nicky has also run sensory music sessions.
Alongside being a freelance musician, Nicky has worked extensively with children and adults who have complex needs, and believes music and the creative arts should be accessible for all.
When she is not working, Nicky likes exploring sculpture parks, drawing pictures of animals and writing stories.
If you see Nicky playing in future concerts anywhere, do come and say hello!
Lottie Bagnall – soprano
Lottie Greenhow was born in Norway and brought up in the UK. She studied at Cambridge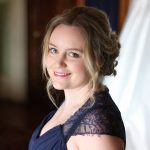 University and performs as a freelance soprano all over the world. Recent highlights include solo performances at the Barbican and WOMAD. She is also an early years music practitioner and runs the Bedford branch of Mini Mozart!
Sonorité Saxophone Quartet
Based in London, Sonorité Quartet are a vibrant and young saxophone quartet striving to make
the world of classical saxophone music more accessible to the everyday listener. The quartet formed out of close friendship first, which can be seen unmistakably in our performances, sharing a passion for chamber music together and playing a wide range of repertoire from Minimalism to Musical Theatre classics. Our members have a wide range of musical experience from being award-winning soloists to composing and arranging music. All four members of the quartet are also able to play flute and clarinet too! Sonorité Classical Saxophone Quartet | Sonorité Music (sonoritemusic.co.uk)
Asaka Quartet
The Asaka Quartet is an upcoming string quartet formed in 2021 at the Royal Academy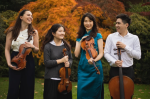 of Music in London. In October 2021, after playing for only a week, they were selected for the prestigious Frost Trust Advanced Specialist Strings Ensemble Training Scheme
(A.S.S.E.T.) at the Academy where they were mentored by Martin Outram.
In June 2022, they attended the Tunnell Trust's Chamber Music Coll course upon invitation by Jonathan Tunnell where they studied with Richard Deakin, Charles Tunnell, Scott Dickinson and Jonathan Tunnell, working and performing alongside Sylvia Winds and the Ferrante String Quartet. In July 2022 they were delighted to have been awarded 1st prize in the Wolfe Wolfinsohn String Quartet Prize at the Royal Academy of Music
for their performance of Beethoven's String Quartet Opus 18 No.2 in G major. In February 2022, Asaka was joined by fellow students in a performance of Schubert's Octet in the Academy's Bicentenary Chamber Festival, on invitation by Levon Chilingirian. They are looking forward to a busy recital season in the Autumn which includes recitals in Moffat Town Hall, St James' Piccadilly, Regent Hall and the Royal Academy of Music.
​After just 6 months of working together, they were delighted to have been appointed Chamber Music Fellows at the Royal Academy for 2022/23. Home | Asaka Quartet
Daniel Ephgrave – flute
Based in London, Daniel studied at Trinity Laban Conservatoire of Music
and Dance, learning flute with Susan Milan & Fiona Kelly. He was a finalist in the Trinity Flute Competition, Harold Clark Woodwind Competition and a prize-winner in the British Flute Society Flute Competitions 2020 & 2021.
Daniel has worked with some of the UKs leading orchestras and ensembles
including Philharmonia, Orchestra of the Swan, RSC Stratford-Upon-Avon
and has played in London's West End. Daniel has given countless recitals
and performances nationwide as a flute soloist, and as part of his trio –
Sonorité Music.
Alison Brierley – bassoon
Alison has lived and worked in the Midlands as a freelance player for over
25 years, performing with a wide variety of ensembles including Orchestra of the Swan, English Symphony Orchestra and the Royal Shakespeare company. She has also gained many years teaching experience and enjoys passing on her enthusiasm for the bassoon to future generations of musicians.
Eastern Strings
East meets the West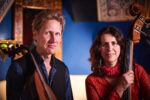 Welcome to the magic of Eastern Strings, one of Bristol's finest and most original duos featuring Daphna Sadeh on double bass and Knud Stüwe on the oud.
The oud is an ancient instrument, originating in the Middle East and North Africa 1000 years ago. That instrument developed later on to the Lute, a baroque instrument. It combines beautifully with the double bass, an instrument that evolves from classical to Jazz and contemporary.
Their performance offers a special programme including Classical, Eastern and Contemporary music.
Cecily Ward – Violin
American violinist, Cecily Ward. She was the founding first violinist of the San Francisco based Cypress String Quartet, a position she held for twenty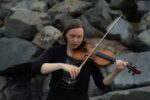 years. Now residing in London UK, she is on the violin faculty at the Royal Northern College of Music, and pre-COVID19 could be found freelancing in chamber orchestras throughout the UK in performances at the Barbican, Concertgebouw, BBC Proms and the Endellion Festival in Cornwall. As a way to stay inspired and connected in lock-down, she created a virtual master-class series – the REALLY Big Class! (for Violinists). The weekly class has featured over 80 performers from all over the world.
Mike Guy – accordion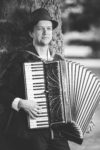 Mike is a professional accordionist / pianist / keyboardist who works in a wide variety of musical styles including jazz, latin, pop, klezmer and tango.  He has been playing accordion for about ten years and really loves it!  He is very much looking forward to performing at Encore Concerts.
Rachel Gordon – soprano
Australian soprano Rachel Gordon has been interested in music from a very young age. During her career she has been a member of numerous choirs and has studied the violin,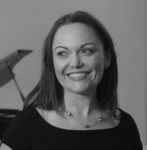 cello and piano. She obtained her Bachelor of Music degree in Voice from Newcastle Conservatorium (Australia) before continuing her studies in the UK with Susan Roper and Peter Alexander Wilson at the RNCM, where she was the grateful recipient of the Muriel Berry Scholarship. She has also worked with Anna Connolly and Ashley Stafford.
Rachel is a competent musician with a soaring soprano range. Her operatic roles include Belinda in Purcell's Dido and Aeneas, Pamina in Mozart's The Magic Flute, Marenka in Smetana's Bartered Bride, Laetitia in Menotti's The Old Maid and the Thief and Micaela in Bizet's Carmen.
Rachel has won various awards for oratorio, lieder and operatic aria and has been a regular recitalist in Sydney, Manchester, and Cambridge with a particular interest in Art Song in English. She performed the UK premier of the song cycle Domestic Advice by Andrew Ford at the RNCM in February 2009.
Rachel now runs a busy teaching practice in Great Shelford.
Stroma – ceilidh band
Stroma's events feature traditional and new folk music from the Scottish, Irish and English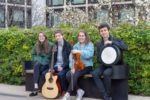 traditions, presented on acoustic instruments with a striking contemporary edge. The band features students and alumni of some of the most well-respected music schools in the UK and they are highly skilled musicians across folk, acoustic, world and classical genres. With fiery fiddle, driving guitar/bouzouki and rhythmic bodhran amongst other instruments, Stroma's vibrant and energetic live performances have already earned them a strong reputation across London and beyond.
Patrick Bevan – violin
Patrick is a violinist who performs regularly in Cambridge as a soloist and chamber
musician. He is also an undergraduate studying Mathematics at Queens' College. Patrick was the Leader of the National Youth Orchestra of Great Britain for 2018 and a member of NYO for 5 years, having joined the 1st Violin Section at the age of 14. He enjoys performing with his quartet and piano trio and recently played Prokofiev 2nd Violin Concerto with the City of Cambridge Symphony Orchestra.
Emily Hoyle – viola
Emily is a Viola player based in London. Having completed her BMus at Trinity Laban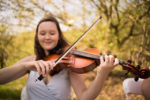 Conservatoire of Music and Dance with Nic Pendlebury and Roger Chase, she went to the Royal Academy of Music where she gained her Master of Arts studying with Jim Sleigh. Throughout her music education Emily has been a keen Chamber musician, working with many different ensembles, performing at the Gower Festival and winning the Sir John Barbirolli String Quartet Competition at Trinity Laban. Since graduating, Emily has built up a busy and exciting freelance career which has included performances with CBSO and various ensembles and orchestras around London.
Jemma Andrews – trumpet
Jemma studied at The Guildhall School of Music and Drama, graduating in 2016 with a BMus (Hons) degree in trumpet performance.
Jemma has performed with the Royal Philharmonic Orchestra, Docklands Sinfonia and the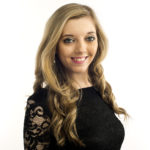 National Youth Wind Orchestra. Jemma is also a regular guest performer with the Music Man Project, the UK's first full time music education service for adults with learning disabilities. She has played at venues including Buckingham Palace, Royal Albert Hall, London Palladium and the Barbican.
Jemma provides trumpet tuition at The Perse School, Westcliff High School for Girls, Davenant School and Newlands Spring Primary School. Her passion is to share her love of music with others.
Jon Fistein – cello
Jon has been playing the cello since the age of four. He won an Instrumental Exhibition at
Jesus College, Cambridge and an Imperial College/Royal College of Music Scholarship. His teachers included Amaryllis Fleming, William Pleeth, Alexander Baillie and Stefan Popov. He has performed concertos and given recitals across the UK and Europe. He works closely with contemporary composers to commission new works for the cello. Jon also works as a session musician and freelance orchestral cellist. He is founder member of the Anglian Ensemble.
Christopher Clark – trumpet
Chris Clark is a Cambridge based trumpet player and conductor with an international career.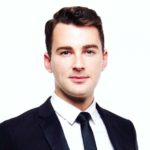 Originally from New Zealand, he has worked with the Hallé, Opera North, Welsh National Opera, Black Dyke Brass Band, Chamber Orchestra of Europe, Royal New Zealand Air Force Band and New Zealand Symphony Orchestra. In addition to his performing career he believes passionately in music education and holds the Trumpet Teacher position at The Leys School. Chris graduated with an MMus from the Royal Northern College of Music, MMus from the University of British Columbia and a BMus (Hons) from Te Kōkī New Zealand School of Music. Chris received an endorsement for exceptional talent from Arts Council England in 2017, enabling him to return to the UK to pursue his career.
Emma Halnan – flute
Emma Halnan is a highly regarded British/Irish flautist with a broad range of experience and expertise. She has performed at major venues worldwide as a soloist, chamber and orchestral musician. Emma has won a number of prestigious awards, including the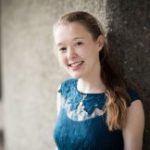 woodwind category of BBC Young Musician 2010, and most recently Making Music's Philip & Dorothy Green Young Artist Award 2018-20. Emma has been noted for her excellent stage presence, and has captivated a large variety of audiences. She is also a highly reputed teacher, her pupils having gained places in the National Children's Orchestra, National Children's Wind Orchestra and at Junior Trinity.
Lucas Keen – African percussion
Lucas Keen made his first drumkit out of biscuit tins, later adding a tambourine before finally getting his hands on his first drums aged 10. Learning  his craft in school orchestras, big bands and musicals, Lucas spent a decade travelling in West Africa studying the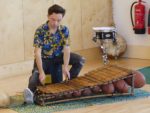 pentatonic balafon and recording an album in Burkina Faso in 2013 with the backing of The Arts Council and British Council.
2018 saw Lucas appearing for BBC Introducing at Latitude Festival, on The BBC Radio 3 stage at WOMAD, playing drums for Seby Ntege Band in Uganda, and broadcast on BBC World Service.
Elliott DeVivo – clarinet and bass clarinet  
Having originally started his career in architecture, Elliott's passion for music soon took over and developed into a busy freelancing career. In 2014 he became an Ann Driver Trust Scholar and also received the Trinity Laban Award to study a Masters degree in performance at Trinity Laban Conservatoire of Music and Dance, studying clarinet with Michael Whight and Juan Enric Lluna.
Since graduating Elliott has been freelancing with orchestras around London and the UK. Elliott also performs as a soloist; recent performances include the Copland clarinet concerto with the Amici Orchestra and Finzi's Five Bagatelles with the Trinity Laban String Ensemble.
Elliott is keen chamber musician and founded the Waldegrave Ensemble in 2009 which sets out to embrace new ways to engage their audiences during their performances.
Education and outreach is aspect of Elliott's career and he has taught as part of Sutton Music Service for over 8 years. He also works on SEN projects with the City of London Sinfonia and runs school workshops with the Waldegrave Ensemble to inspire and encourage music-making for everyone, especially within younger generations.
Sarah Hoyle – bassoon  
Sarah Hoyle is currently a post-graduate student at the Royal Academy of Music studying the Bassoon as an ABRSM scholar.  Before going to the Academy, she attended the Junior Royal Northern College of Music. During her time at the RAM, Sarah has had the opportunity to work with prestigious conductors such as Sir Mark Elder, Trevor Pinnock and Semyon Bychkov, as well as taking part in masterclasses and performance classes with Dan Jemison, Ole Kristian Dahl, Gabor Takács-Nagy and Marco Lugaresi.
Sarah has also been very involved in chamber music, and with her quintet she has had the opportunity to tour the south of France and perform in the Wigmore hall. Whilst at the academy, Sarah took part in the Pendle Young Musicians Bursary Scheme, and through this bursary project was given the opportunity to perform, as a soloist, with the Manchester Camerata in their "Classics with a twist concert series".
Carla Robinson – violin
Carla studied the violin, piano and recorder at the Royal Academy of Music.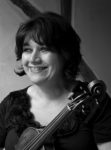 Over the last 30 years she has enjoyed a huge range of freelance orchestral work, teaching work and chamber music which has taken her all around the world.
Her lifetime motto "variety is the spice of life" has taken her from chamber music concerts in New York, opera contracts in Parma Italy, to playing in authentic Mariachi and Tango bands, playing aboard the Orient express and QE2 to appearances on Top of the Pops to name a few.
She currently runs a quartet "Le Soiree" with her husband Gideon a violinist in the
Philharmonia Orchestra. She teaches violin and coaches ensembles at Saffron Walden County High School and also runs instrumental lessons at her local village school.
She has coached on many courses and enjoys particularly working with young
string ensembles.
Her interest in alternative therapies prompted her to qualify as a professional
Reflexologist and `Reiki practitioner in 2002 where she runs a thriving clinic from
home.
Christian Forshaw – saxophone
In a career spanning over 20 years Christian Forshaw has established himself as a leading musical voice.  Working at the very highest levels, his playing and writing have found a strong connection with audiences from many different cultural backgrounds.  His saxophone sound is highly distinctive and his intelligent, evocative compositions and arrangements have connected profoundly with listeners.
Forshaw is best known for his work with the Sanctuary Ensemble for whom he has written, arranged and commissioned over four CDs worth of material.  The Sanctuary Ensemble is a unique group comprising saxophone, voice, organ and percussion and has achieved international success, receiving hundreds of plays on radio and television both in the UK and as far afield as New Zealand.
Christian is regularly asked to give masterclasses at other conservatoires which have included the Royal College of Music, the Royal Northern College of Music, the Royal Welsh College of Music & Drama, Trinity Laban and the Hong Kong Academy of Performing Arts.
Felicity Cliffe – Oboe
Starting her musical journey at a young age, Felicity first developed a passion for making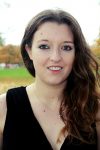 music through the Bromley Youth Music Trust. Being part of such an incredible service for young people was an inspiration and she left with an award for being their most Promising Leaver of 2013. Now, she is loving music more than ever and has recently completed her undergraduate studies in oboe under David Thomas with second study cello under Richard Markson at Trinity Laban Conservatoire of Music and Dance. As a freelance musician Felicity aims to bring the oboe to a wider audience, taking every opportunity to perform and also collaborating with composers, to create new music. The world premiere of her first collaborative piece, written with composer Jo Cooper, 'Kaze for Solo Oboe', was in December 2015 at the Institute of Contemporary Arts.
Hilary Palmer – Oboe
Hilary made a highly acclaimed London debut at the South Bank in 1998 which included 
several world premieres, as a result she was invited onto Radio 4's "Women's Hour" and has made several appearances for Classic FM including "Platform Live", "Masterclass" and a solo concerto performance for "Evening Concert" in front of an audience of 4000.
She has made solo appearances for HRH The Queen and HRH Prince Andrew, was invited to perform at Sting's first wedding anniversary and has since worked with Sir George Martin, Sir Elton John and Sir Paul McCartney.
Hilary has been principal and soloist with the Foundation Philharmonic for many years and has also been leader of their education group which has taken music into over a thousand schools, been featured on Channel 4 and again interviewed on radio.
With an interest in furthering the popularity of the oboe, Hilary toured the world as a headline cabaret act Rhythm n Smooch which culminated in the recording of their two CD's "Desert Island Classics"and "Rhythm n Smooch", their own arrangements of some of the most popular orchestral classics. The CD has received great reviews from  BBC Radio 2's Brian Kay.
Lucy Howard – French Horn
Ever since Lucy started the horn in 2008 with David Bentley, her passion for music has grown as she's become more involved in orchestral playing and chamber music. Having been taught by Christian Rutherford for 4 years, she has been studying under Sue Dent since 2013 at the Royal College of Music Junior Department (RCMJD) in London which she attends every Saturday. Prior to this she was involved in the Cambridgeshire music ensembles and has played in the National Children's Orchestra, the National Children's Chamber Orchestra, the Procorda Chamber Orchestra and is currently a member of the National Youth Orchestra (NYO), with which she will be performing in the Proms at the Albert Hall in August, as well as going on tour to France.
Lucy loves getting involved in music in lots of different ways, so she also plays piano to grade 8 standard and sings, and she participates in 11 different groups weekly. In addition she hopes to continue her academic Music studies at university in 2018 following her school career at the Perse School. While focusing on her ensemble skills, Lucy is also an experienced soloist, having got to the final in the Majorie Humby competition at the RCMJD in 2014. She is working towards doing her DipABRSM on horn this July, which she hopes may lead her onto being able to teach the horn in future.
Lucy has been heavily involved this year in the NYO's inspire projects, which aim to get teenagers across the country equal opportunities to play music to a high level; she has run several sessions for other young musicians as part of this.
Annemarie Federle – French Horn
Annemarie Federle, 14, is a Year 10 student at Chesterton Community College in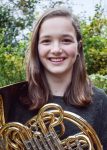 Cambridge. She started playing the horn with Christian Rutherford at the age of seven, and now learns with Richard Watkins. She has always loved playing in ensembles of various sizes, classical as well as contemporary, and has played in the Cambridge Holiday Orchestra, Cambridge Youth Opera, Bedfordshire Youth Orchestra, and Britten Sinfonia Academy. She is currently a member of Junior Prime Brass, Aldeburgh Young Musicians and the National Youth Orchestra. In 2014, she had the opportunity to perform Strauss Horn Concerto No. 1 with the Cambridge Camerata, conducted by Peter Wadl, and more recently in May this year, Mozart Horn Concerto No. 4 with the Sinfonia of Cambridge, conducted by Graham Ross.
Annemarie also plays the piano, taught by Marie-Noëlle Kendall, and is working towards her performance diploma in July. Outside of music, she enjoys art, and is currently taking it for GCSE.
Since having joined the National Youth Orchestra, she is considering studying the horn when she leaves school.
Amanda Michell – French Horn
Amanda's passion for the horn developed whilst studying for her A Levels at Felsted
School. The horn was her newest musical pursuit, but during this time she fell in love with the sound of the instrument, the challenges that it offered, and the opportunities that it could lead to. It was at this time that she made the decision to pursue horn playing as a career.
Before this, Amanda had played the piano and sung in choirs since the age of 6. When she left Essex to study at Royal Holloway, University of London she continued to have lessons on the organ, whilst also maintaining the busy and demanding roles of being a choral scholar in the famed Royal Holloway Chapel Choir, and principal horn of the Royal Holloway orchestras. In 2009 Amanda graduated with a BMus (Hons) and went on to continue her studies on the horn at Trinity Laban Conservatoire of Music and Dance. She also continued singing during this time, as a choral scholar at St Martin-in-the-Fields, Trafalgar Square.
After two years of further study Amanda graduated with an MMus (Performance) and entered the world as a freelance horn player. She has enjoyed her first two years in this profession, which has led her to play with many orchestras including the Royal Philharmonic Orchestra, the City of Prague Philharmonic Orchestra, Orchestra of the Age of Enlightenment, Manchester Camerata, London Concert Orchestra and Arts Symphonic. She has recently begun to develop a career in the West End and as well as performing in one-off shows, Amanda is currently a regular deputy for "The Lion King". Amanda hopes to continue broadening these experiences as well as performing as a soloist and is very excited about where her career will take her in the future.
The Cantabrigians
'The Cantabrigians' is a group of professional female singers based in Cambridge, founded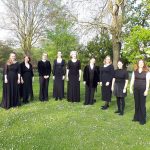 and directed by Soprano Paula Downes. Many of the singers are former members of the National Youth Choir of Great Britain and ex Cambridge Choral Scholars and have since performed with groups including The Sixteen, Philharmonia Voices, the BBC Daily Service Singers, I Fagiolini, the Tallis Scholars and The Hannover Band.
Tim Rose – Guitar
Since turning professional in 1995, Tim has performed with many artists and in productions all around the world. These include 'Saturday Night Fever' in Korea, Reelin' and a Rockin' in Australia as well as studio work and performances with orchestras in the UK. Much of Tim's work these days is in West End shows. He can be heard (and seen on stage occasionally!) playing on shows such as 'Thriller', 'Wicked' 'The Book of Mormon' and 'Kinky Boots'. He is also the bass player for Toyah Willcox and has toured with Brendan Cole from 'Strictly Come Dancing'. His album "Outlook" was launched earlier in 2017 and has received great reviews.
Helen Groves – Soprano
Helen studied at the Royal College of Music (where she gained postgraduate diplomas in
singing and teaching) before embarking on a career as soloist, ensemble singer and coach. Her work with young people ranges from coaching the choir of Great St Mary's and the London Oratory School, to teaching students in Cambridge, London and Birmingham. Highlights of Helen's performing career include recitals at Wigmore Hall and her solo debut at the BBC Proms; staged productions with Sir Simon Rattle at the Salzburg Festival (Rameau, Les Boréades – Orchestra of the Age of Enlightenment) and the Berlin Philharmonie (Bernstein Wonderful Town, Berlin Philharmonic Orchestra); and appearances worldwide with numerous vocal ensembles including The Tallis Scholars, The Sixteen, Gabrieli Consort, The Clerks and I Fagiolini.
Christopher Xuereb – Double Bass
Christopher Xuereb is an experienced Double Bass player.  He completed his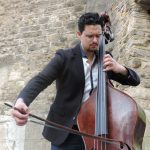 undergraduate degree at the Royal Northern College of Music where he studied with Roberto Carillo Garcia, Jiri Hudec and Bozo Paradzik.  He recently completed his PG diploma at the Royal College of Music  with Gabriele Ragghianti and Neil Tarlton.
Christopher started tuition in 2003 under his father Mr. Dion Xuereb.  In the same year he made his first debut with the National Youth Orchestra of Malta.  He went on to play with the Malta Philharmonic Orchestra,  Linz Youth Orchestra,  Orchestra Di Pesaro,  BRNO Philharmonic Orchestra,  Oldham Symphony Orchestra,  Wirral Symphony Orchestra,  and Royal Liverpool Philharmonic Orchestra.  He also recorded with the Royal Northern College of Music wind orchestra and played in a project with the Astillero Tango ensamble.
Whilst at the Royal Northern College of Music,  Christopher had teaching experience in Manchester and Liverpool.  He is also a composer and has composed works for Double Bass,  Chamber Groups,  Choir,  Organ and Orchestral.
As a virtuosic Double Bass player,  Christopher is continuously adding new music to his repertoire.  He has performed in Malta and mostly in the United Kingdom.  He performed a number of great works such as Tubin's Double Bass concerto, Works by Giovanni Bottesini,  Domenico Dragonetti Double Bass concerto,  Invocation by Miroslav Gajdos and many more.
As a tutor Christopher, has recently started teaching Double Bass at the Perse Upper School in Cambridge and he also gives private lessons in Oxford.
Chloe Beresford-Jones – Soprano
CHLOE BEREFSORD-JONES trained at Trinity College of Music, London under a Beatrice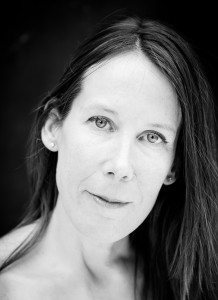 Taylor Scholarship and was winner of the Riccordi Opera Prize. She has performed many operatic roles, including U.K. premieres of Barber's Vanessa (Erika) and Rossini's Sigismondo (Anagilda).  Other roles include The Countess and Cherubino (Le Nozze di Figaro), Dorabella (Cosi fan Tutte) and Larina (Eugene Onegin) with Candlelight Opera; Pamina (Die Zauberflöte) and Hänsel (Hänsel und Gretel) with Opera Exclusive; Philadel in Purcell's King Arthur; Madame Lidoine in Poulenc's Les Dialogues des Carmelites and Ellen Orford (Peter Grimes).  She has also toured with Opera Box in their productions of Monteverdi's L'Incoronazione di Poppea (Ottone, Fortuna and Valetto) and Cosi fan Tutte and at Opera de Baugé in France singing the role of Belinda in Purcell's Dido & Aeneas. Chloe regularly appears as soloist in oratorio and concert performances. Engagements include Handel Messiah, Dixit Dominus and Israel in Egypt, Fauré Requiem, Dvorak Stabat Mater, Carissimi Jephte, Mozart C Minor Mass, Bach B Minor Mass, Vivaldi Gloria, Douglas Combes Lauda, Strauss Four Last Songs and Bernstein West Side Story. She has worked with a variety of conductors including Gregory Rose, Andrea Quinn, Jonathon Wilcox and Marios Papadapoulos and has made television appearances with the tenors Russell Watson and Andrea Bocelli. She is Head of Singing at the Perse School, Cambridge.
Ric Elsworth – Percussion
Ric Elsworth is a Professional Percussionist from London.
Since graduating from the Royal College of Music in 2008, Ric has recorded with some of the UKs biggest pop acts, including Bastille & Foals. He is a member of the London Contemporary Orchestra and a was a Drum Captain for the London 2012 Opening Ceremony. He has amassed over 2 million YouTube hits in various appearances and hosts his own YouTube channel demonstrating the role that Percussion can play in the music of today.
Louisa Denby – Bassoon
Louisa Denby holds an MMus in Choral Studies from Selwyn College, Cambridge, where she also read for a BA(Hons) degree in Music and a Postgraduate Diploma in Theology & Religious Studies. Alongside her current research into Music and Theology, Louisa supervises undergraduates at the University of Cambridge, and is Graduate Organ Scholar of Downing College. Outside the University she is Choir Director at St Mark's Church, Newnham, and assists Sarah MacDonald with training the choristers of the Ely Cathedral Girls' Choir. She also undertakes occasional teaching at the Guildhall School of Music & Drama, London, in addition to her private teaching practice.
Louisa has enjoyed working with many distinguished musicians, including soloists Tasmin Little, David Childs, and Lesley Garrett, and conductors Sakari Oramo, Sir Roger Norrington, and the late Sir Colin Davis. Former Principal Bassoon of the International Youth Wind Orchestra, Louisa has performed across the UK, Europe, and America; she has broadcast live on BBC Radio 3 as a chamber musician, and is in demand as a freelance bassoonist, organist, and choral singer.
Outreach and charity work form a large part of Louisa's professional activities: she is Artistic Director of The Rosemary Consort, with whom she has raised thousands of pounds for local and national charities by staging annual concert series, besides her work as a choral conductor, choir trainer, and animateur. In 2010 she founded Vox Cantab, a chamber choir consisting of current and former Cambridge choral scholars, with whom she regularly performs all over the UK.
Louisa is in receipt of a scholarship from the Eric Thompson Trust in support of her organ playing, and in early 2014 was admitted a Licentiate of the Royal Schools of Music for bassoon performance.
Anneke's harp studies began in Limerick, Ireland, where she was taught by Madeleine Meehan.  In 2002, she was awarded a scholarship to the Royal Irish Academy of Music in Dublin, where she studied with Aine Ní Dhubhghaill.  She was awarded First Prize at the Feis Ceoil Senior Harp Competition in 2004.

In 2005, Anneke moved to London, where she studied at the Guildhall School of Music & Drama (BMus Distinction 2009, MMus Distinction 2010).  At Guildhall, Anneke studied with Imogen Barford, Bryn Lewis and Charlotte Seale. She has played in masterclasses with, among others, Sioned Williams, Marisa Robles, Isabelle Perrin, Letizia Belmondo, Karen Vaughan and Elinor Bennett. During her postgraduate studies, Anneke was supported by the Arts Council of Ireland (Travel and Training Award).
In June 2010 Anneke won the harp position at the London Symphony Orchestra String Academy, culminating in a performance of the Debussy Danses at LSO St. Luke's. Concerto appearances have also included the Handel Harp Concerto, with the Handel Collection, and further performances of the Debussy Danses with orchestras around the UK.  Anneke has performed recitals for the Deal, Harrogate, and St. Lawrence Jewry Festivals.  Since 2011, Anneke has performed solo and chamber music across Britain for Live Music Now!.
As an orchestral musician, Anneke has worked with conductors such as Edward Gardner, Fabio Luisi, Vasily Petrenko, and Pierre-Andre Valade. She is an active freelance orchestral player, and plays with orchestras including the London Symphony Orchestra and the BBC Symphony Orchestra. She was awarded the harp position in the Pacific Music Festival Orchestra, with which she toured Japan in 2011.  Anneke has also been a member of the Britten-Pears Orchestra.
Anneke is also an experienced  and committed performer of contemporary music and has played with the Guildhall New Music Ensemble in several live broadcasts for BBC Radio 3.  Experience in this field also includes the premiere and recording of new works for octet with musicians from the BBC Symphony Orchestra, and a performance at the Wigmore Hall as part of the Voiceworks Series. 
Andee Price (aka Scarlett Rae) – Double Bass & Vocals
Andee has been a professional bassist for almost a decade and although used to singing the odd 'ooh' and 'ahh' as a backing vocalist, this is the first time she has stepped out to the front of the band and taken the lead. Influenced by the bass-playing of jazz greats such as Ray Brown and Ron Carter and the voices of blues legends such as Ruth Brown and Big Mama Thornton, the band can swing hard with plenty of attitude thrown in.
Andee was a founding member of the all-female blues band Chix Wiv Pix whose highlight was supporting Wilko Johnson. In 2006 she recorded an album with Blues Academy featuring Nigel Feist, with Rox Clayton-Scott on vocals. This album is now sold to raise money for Cancer Research. Other artists Andee has worked with include Toyah Willcox, Keith James, Tina May, Derek Nash, Alan Barnes and Steve Waterman.
Jacqueline Hacking – Voice
Jacqueline was born in Arbroath on the North-East coast of Scotland and she has been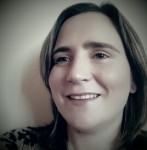 living locally in St Neots for the last 7 years. Jacqueline sung from a very early age and performed at events and competitions in and around Arbroath. After leaving school she trained as a singing teacher in Aberdeen before moving to Leeds to study a BA (Hons) Music Studies Degree at Leeds College of Music.
Jacqueline specialises in Opera and oratorio and she has performed as a soprano soloist for a number of choirs and Opera companies. Her most notable roles have been as Mrs Ford in 'The Merry Wives of Windsor' by Otto Nicolai, 1st Lady in Mozart's 'Magic Flute' and Queen Dido in Purcell's 'Dido and Aeneas'. Having spent many of her early years singing traditional Scottish music, Jacqueline is also an accomplished folk singer.
Sally Landymore – Flute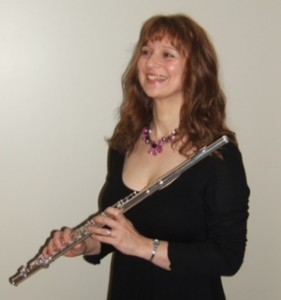 Sally Landymore studied the flute with Brenda Dykes and subsequently with Julie Wright and Atarah Ben Tovim.
Sally performs with many orchestras in the area including Cambridge Sinfonia, City of Cambridge Symphony Orchestra, Cambridge Philharmonic, East Anglian Chamber Orchestra and K.239. She particularly enjoys chamber music and is a founder member of the Cambridge Winds Quintet and the Syrinx Players flute quintet. Her interest in smaller ensembles also extends to a flute and guitar duo with Rosie Mowatt and flute duo with Alison Townend.
During the early 1990's Sally toured nationally as Principal flute in the chamber orchestra with Patrick Moore's "Space Concerts".
Concerto performances include Brandenburg with Crispian Steel Perkins, Bach B minor Suite and the Chaminade Concerto, Mozart Flute and Harp, Mozart D major. She currently teaches and coaches chamber ensembles at St. Faith's and the Perse Schools in Cambridge which she finds very rewarding.
Rosie Mowatt – Guitar
Rosie Mowatt was born in Lincoln and started playing the classical guitar with Rob Johns at the age of seven.  She studied Music and Education at Bishop Grosseteste College in Lincoln and Hull University obtaining a BA (Hons) and an LLCM Performance Diploma.
She performs mainly as a soloist, but has also been involved in duets with flute, violin, voice and recorder and is currently a member of the Cambridge Guitar Orchestra.
She currently holds teaching positions at St John's College School, St Faith's School and The Perse Upper in Cambridge.
Siu Chui Li – piano                     
Siu Chui Li is in demand as a collaborative pianist and has given chamber concerts in France, Belgium, Iceland, Sweden, Spain, Portugal, Germany, Greece, Switzerland and South Korea and throughout the British Isles. She has given performances in major festivals including West Cork Chamber Music Festival, Chichester Festival, Isle of Man Festival and Festival du Menton in the South of France.
In England Siu Chui has performed at notable venues such as De Montford Hall, Leicester; and in London, Blackheath Concert Halls, Wigmore Hall, The Royal Opera House, Purcell Room and the Royal Festival Hall. She has collaborated with musicians such as flautist Susan Milan, violinist Elizabeth Cooney and the critically acclaimed Doric String Quartet. Siu Chui is a graduate of the Guildhall School of Music and Drama and the Royal College of Music.
Charlotte Rowan – violin                    
Charlotte performs frequently as a soloist throughout the UK at venues which have included Southwark Cathedral, Newcastle's Independent Library, St. Giles Cathedral, Edinburgh, London's Foundling Museum and Falkirk Town Hall. In America she has given recitals for Baltimore Chamber Music Society and Baltimore's Thursday Noon Series, performed in Washington D.C. for Justice Sonia Sotomayor of the US Supreme Court with her string quartet and appeared on the Washington Performing Artist Series at the Smithsonian alongside conductor Rob Kapilow.
In 2013 she featured in Buckingham Summer Music Festival and this summer will perform at Crail Music Festival, Fife, Horsham Garden Music Festival, Sussex, and St. Mary's Cathedral, Edinburgh as part of the annual International Festival. She has made numerous solo appearances with orchestras based in Baltimore, Edinburgh and Stirling and has performed twice at the Fitzwilliam Museum in Cambridge for their Promenade Concert Series. She has been invited to perform at the Pump Room in Bath for Bath Recital Artists' Trust and other future engagements include recitals in Dunblane, Chelmsford, Cambridge, Cheltenham, Bath, Chichester, Southwell and various venues across London.
At age 16 she gained a place at the Peabody Conservatory in Baltimore from where she graduated with high honours. Charlotte continues to be passionate about bringing the violin repertoire to as wide an audience as possible. She is also a dedicated teacher, working as violin tutor and ensembles coach for King's Ely, Perse School, Cambridge and in various other schools across London.
Sarah Bowden – Clarinet
Sarah took up the clarinet at the age of 8 and began to play seriously in her teens when she joined the National Youth Wind Orchestra of Great Britain. She read German and Latin at Cambridge, where she played principal clarinet with most of the university ensembles and studied with David Campbell. Sarah is now Lecturer in German at King's College London, specialising in medieval German literary and religious culture, but she remains very active as a clarinettist, performing frequently as a soloist and in chamber ensembles in Cambridge and further afield. Recent performances have included Messiaen's Quatuor pour la fin du temps in Cambridge, Edinburgh and Paris, and Brahms' Clarinet Trio in the Cambridge Summer Festival. Sarah also organises an annual chamber recital for young professional musicians in the village of Wakes Colne where she grew up.
Lucy Landymore – Percussion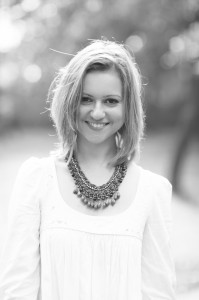 Lucy's interest in percussion and drum kit began after watching a performance by her father's Big Band "78RPM" when she was 6 years old. She was a member of the National Children's Orchestra and National Youth Orchestra through her childhood, subsequently taking part in the LSO St Luke's Academy for percussion 2009 and 2013. She was chosen to perform a solo marimba piece for both the final concerts, after performing in master classes lead by Colin Currie. In 2010, Lucy won the percussion category of the BBC Young Musician of the Year. As a result, Lucy has been invited to perform concertos and recitals in different cities across the UK. This includes performing Steven Barlow's Clarinet and Marimba concerto, Nocturne, with Emma Johnson, giving recitals at schools and universities including a world music recital at the St. Ives Arts Centre in Cornwall, and she has recently premiered a new percussion concerto by James Welland, with the Colchester Symphony Orchestra. Lucy is currently studying percussion with Sam Walton at the Royal College of Music, supported by a full scholarship from Soiree d'Or. Since commencing her studies at the RCM, Lucy has won the RCM Concerto competition, which gave her the opportunity to perform Zivkovic's Tales from the Centre of the Earth with the RCM Symphony Orchestra. She has also performed on Latin percussion alongside Steward Copeland for the performance of his new album Orchestralli, in the RCM Britten Theatre.
Lucy will next appear on the SkyArts TV program Michael Parkinson: Masterclass where she takes part in a master class with Evelyn Glennie, performing Ultimatum I  by Zivkovic.
Chris Wong – Guitar and Bass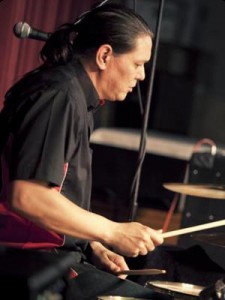 Mainly known professionally as a guitarist/bassist, Chris is multi-talented. He regularly performs with Scarlett Rae and the Cherry Reds and also writes much of the band's original material.
Chris is musical director and guitarist for 80's star Toyah Willcox with whom he has toured extensively. Both he and Toyah also perform in another band The Humans, along with Bill Reiflin and they have just released their second album featuring prog rock guitarist Robert Fripp.
Chris is also no stranger to the world of theatre. For the last 17 years he has been Musical Director for the Marlowe Theatre pantomime, and in addition to conducting other shows he has toured or depped as a guitarist/bassist on a number of other shows including Joseph, Grease and Hot Shoe Shuffle.
Chris has released two of his own albums Edible Suite and You Know Who You Are. Other recording credits include Rox Clayton-Scott, Dave Sinclair, Gisele De Marco and Don Mescall.
Richard Hull – Trumpet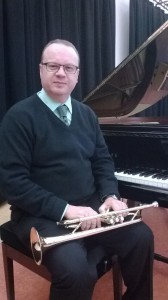 After gaining a Degree in Music from Dartington College of Arts in 1991, Richard embarked on a trumpet teaching career, starting at his old school, Bedford Modern School. He has been involved in many different aspects of brass tuition and education, having also spent a year as Visiting Professor of Trumpet at Cornell University in Ithaca, New York.
Richard is currently Principal Trumpet of the Sampson Orchestra of Cambridge and Principal Cornet of the City of Cambridge Brass Band. He has played concertos on the trumpet and the piano with various ensembles, including the Gregson and Arnold Trumpet Concertos and the Ravel and Grieg Piano Concertos. Richard is also busy as a conductor and is currently Musical Director of the Uttlesforde Orchestra and also Cambridge Symphonic Winds.
Richard has been the Head of Brass at the Perse School in Cambridge for about 12 years, and also teaches brass at the Perse Prep School and Dame Johane Bradbury's School in Saffron Walden. He also acts as a music copyist for the composer Paul Hart and, when he finds the time, enjoys arranging music for for wind and brass band.
Veronica Henderson – Cello
Veronica Henderson studied music at St Catharine's College, Cambridge, and then specialised in the cello at the Royal Academy of Music in London.
Solo work has taken her to Switzerland and Belgium, particularly with the choir, Cambridge Voices, with whom she gave the first performances of Carl Rütti's "Lieder der Liebe" in 1994.
Veronica performs in Cambridge with Ian de Massini, Peter Britton and Jill Morton and has appeared many times in the Cambridge Summer Recitals and at Anglia Ruskin University. This year she is giving 5 performances of Ravel's Duo Sonata with the violinist, Gwen Owen Richer, and performed the Dvořák Cello Concerto in Cambridge in September.
Cathryn Neuhauser – Violin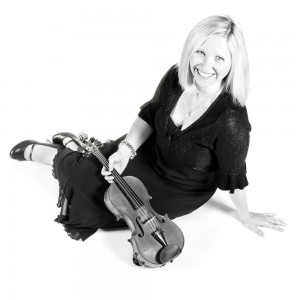 Cathryn began playing the violin at the age of five. Performing in ensembles from string quartets to big bands, she began her professional career in her teens. She went on to study at Trinity College of Music in London, graduating with a BMus in performance.
As well as working as a solo violinist, Cathryn has been the first violin in the Blond String Quartet for the last 12 years. As a freelance orchestral musician, she is a guest leader for the Hunts Phil in Cambridgeshire.
For several years, Cathryn was the solo violinist in the musical Chicago, which toured extensively around the world. She also performed regularly in its West End production.
Cathryn Skea – Flute
Cathryn enjoys playing the flute in amateur ensembles and orchestras. Whilst music has always been important to Cathryn, she values equally the life- long friends she has made through both playing and choral singing. Cathryn works part-time as a virologist at Great Ormond Street Hospital and spends the rest of her time enjoying the company of her husband and her daughter, Bronwen.