Encore! launched in September 2013 in St Neots, Cambridgeshire.  We bring live music to everyone from babies to grandparents in a relaxed and informal environment. We believe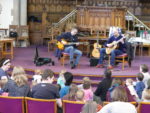 in letting very young children hear music from all different genres.
At Encore! everyone is encouraged to react to music however they want – jumping up and down, dancing, sitting, lying down or drawing pictures inspired by what they have heard. But above all, they learn that music is fun and there's something very exciting about hearing it live.  
Due to the current situation with Coronavirus, we have cancelled all concerts until further notice. 
***12th and 19th March 2020***
12th March St Andrew's Street Baptist Church, Cambridge
19th March St Mary's Church, Eaton Socon, St Neots
We are thrilled  to welcome accordionist, Mike Guy to perform for us in March. Mike is a professional accordionist / pianist / keyboardist who works in a wide variety of musical styles including jazz, latin, pop, klezmer and tango. His concerts are going to be lots of fun and they will be a wonderful opportunity to hear this amazing instrument at close range.
Adults £8, Preschool children FREE
Please reserve your tickets here or message us on our facebook page.
Alternatively, text us on 07956 459 707
Tickets also available on the door
Refreshments of coffee and home made cake are free!
We are able to accept card payments at our venues.