Encore! launched in September 2013 in St Neots, Cambridgeshire.  We bring live music to everyone from babies to grandparents in a relaxed and informal environment. We believe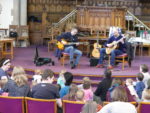 in letting very young children hear music from all different genres.
At Encore! everyone is encouraged to react to music however they want – jumping up and down, dancing, sitting, lying down or drawing pictures inspired by what they have heard. But above all, they learn that music is fun and there's something very exciting about hearing it live  
Due to the current situation with Coronavirus, we have moved all concerts online until further notice. 
Next concert – 15th October, 10.30am
We are thrilled to welcome violinist, Charles Mutter to join us for our October concert. In 2007, Charles took up the post of Associate Leader of the BBC Concert Orchestra. He has led the orchestra for many of their highest-profile activities, notably Nigel Kennedy's triumphant return to the Proms in 2008 and BBC2's "Maestro" series, and has appeared as soloist with the orchestra in works by Beethoven, Bruch, Dvorak, Nico Muhly and Kurt Weill. He is also much in demand elsewhere as a guest leader (Philharmonia, Bournemouth Symphony Orchestra) and session musician.
To catch up on our previous online concerts, please follow this link – Encore online
As you will be well aware, the COVID-19 pandemic has seriously affected us all, including musicians. These online concerts are free. However, if you do enjoy them and are able to, please do consider giving us a small donation via our Paypal link. We'd be very grateful, thank you
paypal.me/encoreconcerts